Using Computerized Strategies to Trade Stocks, Futures and Options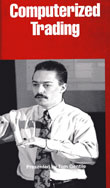 Expert: Tom Gentile
Type: Video
Running Time: 90 minutes
Availability: Now
Average Rating:
Computers give you the power to explore several different trading strategies in any market within minutes. The key is learning how to filter quickly through these strategies to find the one or two trades that have the best potential for profits. In this fast-paced DVD, Tom Gentile shows you how to use a computer to analyze options on a spreadsheet and determine if an option is overvalued or undervalued compared to its underlying assets. He also shows you how to use volatility to your advantage and how to trade the volatility skew for consistent profits. In almost no time you'll learn a few simple strategies for trading stocks, futures and options that can limit your risk and dramatically improve your profit potential.
About The Expert

Tom Gentile
Tom Gentile is an active stock, futures and options trader living in Alpharetta, Georgia. He currently holds positions at several different companies and works as a consultant for a number of trading firms and large hedge traders. He often appears at George Fontanills' popular Optionetics seminars, and he also is a regular contributor to Fontanills' newsletter and fax publication for traders.