Avoiding Trading Mistakes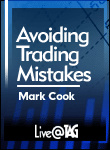 Expert: Mark Cook
Type: PDF Workbook MP3 Audio
Running Time: 90 minutes
Workbook Length: 4 pages
Availability: Now
Average Rating:
Whether you are a novice or an experienced trader, sometimes the markets leave you feeling like either an idiot, a moron or both. Trading professional Mark Cook shows you how to conquer trading mistakes and get back on the right track.

In his workshop he shows you what to do when your winning percentage drops, how to adjust position size for different trading environments and how to build your confidence. His methods will help you achieve trading consistency but, should your capital erode, his insights will also show you how to rebuild your capital base.
About The Expert

Mark Cook
A trader for twenty-two years, Mark Cook operates from his family's 1870s farmhouse in East Sparta, Ohio. He manages his own and client's accounts and offers a fax advisory service, Mark D. Cook's Trader's Fax, on S&P and T-Bond futures and OEX options, that is specifically dedicated to helping people become better traders. His own early trading years were difficult, but as he struggled for success, he gained valuable experience and learned what makes - and breaks - a trader. Mark developed the Cook Cumulative Tickô Indicator and gained acclaim by winning the 1992 U.S. Investment Championship with a 563.8% return. He has written numerous articles for industry publications including Fut..