Turning Chaos into Cash — The Quantum Alternative to Losing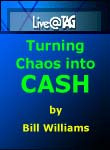 Expert: Bill Williams
Type: PDF Workbook MP3 Audio
Running Time: 90 minutes
Availability: Now
Average Rating:
Bill is revolutionizing the world of technical analysis by challenging its chief underlying premise — that the past can be used to predict the future. Instead, Bill describes the markets as a "natural phenomenon," which the traditional classical sciences cannot model or explain. "Classical science can model the trajectory of a rocket but cannot model the shape of a cloud, the structure of a plant, the flow of a river or the machinations of the market."

In this workshop, Bill explains and illustrates how Chaos Theory and Fractal Geometry, long used in the physical sciences, provide a more perfect model for understanding and identifying opportunity in the commodity and stock markets.

Nature and the human brain are chaotic. The markets, as a part of nature and a reflection of the human brain, are chaotic as well. "Chaos" (often misinterpreted to mean "randomness") actually signifies a collection of new information. Where traditional wisdom uses cause and effect to describe and predict the actions of the markets, Chaos Theory focuses on this new information as the organizing principle for market movement. Fractal Geometry is simply the tool used to analyze such non-linear phenomena.

In this session, you will learn how the sciences of Chaos Theory and Fractal Geometry provide a superior model for investing in the commodity and stock markets. You will learn how the Market Facilitation Index (MFI) adds a totally new, non-linear and behavioral dimension to trading that is beyond the normal technical approach. You will see for the first time Bill's new Chaos software, Investor's DreamTM, and learn how it can be used in trading with TradeStationTM and other technical analysis software packages.
About The Expert

Bill Williams
Bill Williams is the Founder and CEO of the Profitunity Trading Group. With more than 50 years of active trading and teaching experience, Bill has developed several proven trading tools including the Alligator, the Super AO, the MFI, and the Wiseman Indicators. He and his daughter Justine have been featured speakers at trading seminars around the world since 1982. He is the author of three best-selling books, Trading Chaos, New Trading Dimensions, and Trading Chaos: 2nd Edition, as well as of many talks including Trading the Stock Market Using the Science of Chaos, Fractal and Non-Linear Dynamics. Now retired from the day-to-day activities of the Profitunity Trading Group, he continues t..