Bonds and Other Futures, Equities and Cash Markets — A Master Trading Plan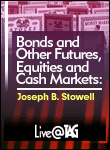 Expert: Joseph B. Stowell
Type: PDF Workbook MP3 Audio
Running Time: 90 minutes
Availability: Now
Average Rating:
You will learn several short-term trading techniques including three new trading signals, IDR (Inside Day Reversal), LMI (Leading Momentum Indicator) and TBS (Third Bar Signal), through the use of a daily bar chart. Joseph discuses mechanical entry points, protective stops and profit objectives for short-term trades of two to five days. Joseph's presentation shows you his integration of the various short-term trading signals and how they form a master trading plan for participating in various markets.
About The Expert

Joseph B. Stowell
Joseph B. Stowell, sole proprietor of Money Management Services, a financial and trading consulting business, has spent over thirty years trading his own account. Joseph created the Bond Investor Newsletter, a publication primarily devoted to teaching successful short-term trading methods for the bond futures contract. The development of his technical trading methods for the bond market (applicable to other markets as well) follows the precept of "keeping it simple," a point which Joseph emphasizes in his book, Tips for Traders and Investors, Trading U.S. Bonds and Stocks. Joseph also has over twenty years of experience teaching in the public schools of New York. This combination of trad..