Trending Techniques and System Selection Index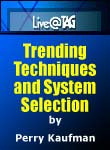 Expert: Perry Kaufman
Type: PDF Workbook MP3 Audio
Running Time: 90 minutes
Workbook Length: 37 pages
Availability: Now
Average Rating:
The conflict between trending and non-trending markets poses one of the greatest dilemmas for the systems trader. To trade effectively you must decide whether to trade with a trend or against it, or to wait for a better entry position altogether.

In his workshop, Perry presents what he considers the best technique for making these decisions. He combines this trending technique with a System Selection Index to determine which markets exhibit signs of a reversal and which indicate a continuing trend. Based on these concepts, Perry shows you how to improve your entry timing. He explains why profit taking improves results while stop-losses make them worse. Perry also describes some useful programs written for his own use and provides you with TradeStationTM code, easily adaptable for use with other software packages, to illustrate his concepts.
About The Expert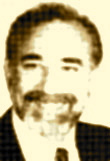 Perry Kaufman
Perry J. Kaufman is a market strategist known for his knowledge and experience in computer-based trading systems applied to world futures and financial markets. His publication, The New Commodity Trading Systems and Methods (John Wiley & Sons, 1987), has become the technicianís required reference. In 1984, he published the comprehensive Handbook of Futures Markets (Wiley). An earlier book of research papers, Technical Analysis in Commodities (Wiley, 1980), has been translated into Japanese. Perry founded the Journal of Futures Markets (Columbia University and John Wiley & Sons), a vehicle for gathering academic research on market analysis. He is series editor of Wileyís Traderís Advanta..