Advanced Fibonacci Applications and the Price Axis...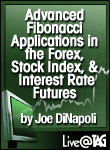 Expert: Joe DiNapoli
Type: PDF Workbook MP3 Audio
Running Time: 90 minutes
Workbook Length: 23 pages
Availability: Now
Average Rating:
Advanced Fibonacci Applications and the Price Axis in the Forex, Stock Index, and Interest Rate Futures.

Joe's techniques result in significantly higher percentages of winning trades through more accurate stop placement, market entry and profit objective location. Joe's high-accuracy trading approach depends on the proper mix of both leading (Fibonacci) and lagging indicators.

You will learn where and how to apply Fibonacci analysis. This context determines the real bottom-line difference. Joe devotes a significant part of his lecture to trend analysis and directional techniques using variations of Stochastics, MACD and displaced moving averages. Technical analysis software packages can simulate all of these unique and specific variations through pre-programmed studies or by inserting the formulas Joe provides for you.
About The Expert

Joe DiNapoli
Joe DiNapoli is a veteran trader with over twenty-five years of solid market trading experience. He is also a dogged and thorough researcher, an internationally recognized lecturer, and a widely acclaimed author. Joe's formal education was in electrical engineering and economics. He received his informal education in "the Bunker," an aptly named trading room packed full of electronics and communications equipment. This is where most of Joe's early research began. Joe is one of today's most sought-after experts for his exhaustive investigations into displaced moving averages, his creation of the proprietary "Oscillator Predictor," and in particular, his practical and unique method of app..