Applying Fibonacci Analysis to Price Action - Part 1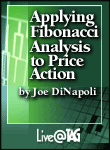 Expert: Joe DiNapoli
Type: PDF Workbook MP3 Audio
Running Time: 90 minutes
Workbook Length: 35 pages
Availability: Now
Average Rating:
This workshop teaches you the most practical way to apply Fibonacci ratios to the price axis. Joe is recognized around the world for his understanding of the subject. Discover how to mix leading (Fibonacci) and lagging indicators for a high-accuracy, low-risk trading approach. Find out how to enter strong running market moves "safely" and where to place stops for maximum protection and minimum exposure.

See how to calculate pre-defined profit objective points and how to employ the three-period money management rule to maximize profit and minimize heartache. Hear why specific displaced moving averages are a superior trend-containment indicator and why a unique application of the MACD/ Stochastic trend indicator yields superior trading results.

At the end of this session, you will understand the proper and practical application of Fibonacci ratios to the price axis and you will have access to a trading style that has the capacity to produce an exceptionally high number of winning trades.
About The Expert

Joe DiNapoli
Joe DiNapoli is a veteran trader with over twenty-five years of solid market trading experience. He is also a dogged and thorough researcher, an internationally recognized lecturer, and a widely acclaimed author. Joe's formal education was in electrical engineering and economics. He received his informal education in "the Bunker," an aptly named trading room packed full of electronics and communications equipment. This is where most of Joe's early research began. Joe is one of today's most sought-after experts for his exhaustive investigations into displaced moving averages, his creation of the proprietary "Oscillator Predictor," and in particular, his practical and unique method of app..