Spread Trading Tactics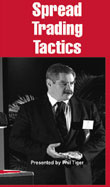 Expert: Phil Tiger
Type: Video
Running Time: 85 minutes
Availability: Now
Average Rating:
In this video, you'll learn the ins and outs of trading spreads from an analyst who has specialized in spreads for more than 25 years. You'll find out why many top commercial traders utilize spreads and learn how you can use them to expand your trading activity. Plus, you'll learn some specific spread strategies you can use to pinpoint spread moves of major importance and keep your risk under control.
Chapters
Beginning
I Guarantee It
Phil Tiger
4 Basic Spreads
Fundamental Analysis
Seasonal Index
Spread Concepts
Money Management
Corn Wheat Spreads
Moving Averages
May, July Seasonal
July Soybeans Seasonal
July Nov Spread
March July Meal Spread
June Oct Cattle
Popular Spread
MOB and NOB Spread
Currency Spreads (Crosses)
Index Spreads
Platinum Gold Spreads
Copper Contango
Old Crop, New Crop Cotton
Coffee Spreads
March, July Lumber
Gasoline vs Heating Oil
Crude Oil Spread
Heating Oil Spread
Q & A
The Fish Test
About The Expert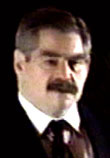 Phil Tiger
Phil Tiger, a vice president and financial consultant at Smith Barney has been publishing a newsletter, Tiger on Spreads, semi-monthly since 1981. He has appeared at numerous seminars and conferences for traders and has custom designed and executed hedge and speculative trding programs incoroporating spreads.