Jon Najarian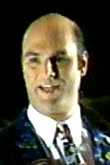 When Jon Najarian earned a tryout with the Chicago Bears he thought he had the job of his dreams. Then a guy named Mike Singletary took his position, made all-pro 9 times, and helped the Monsters of the Midway crush the Patriots in Super Bowl XX.

And what about Jon? After he left football his agent pulled a few strings and got him a job as a runner at one of the local exchanges. Little did Jon know that within a few short years he would become one of the most recognized and respected traders in the world!

Mike Singletary's football career is ancient history. But Jon's career as a trader is going strong. Believe it or not, he now makes far more money as a trader on and off the floor of the Chicago Board Options Exchange than he ever did as a football player!

As president of Mercury Trading Inc. in Chicago, Jon often makes hundreds of trades in a single day. Sometimes he wins and sometimes he loses. But his overall goal is to lock in steady profits by following a few simple strategies he learned during his first years on the floor.
Titles By Jon
Average Rating:




According to professional options trader Jon Najarian, options add a great deal of flexibility to your trading program and can help you leverage your S&P trades, decrease your losses and avoid being "stopped to death". In this exciting, fast-paced video, you'll learn how to watch the market so you can position your trades ahead of major news events. You'll be spellbound as Jon explains how to develop safer and less painful ways to play the bear side of the market and shows you smarter ways to make money selling a dull, sideways market. Plus, you'll find out why SPDRs are better than putting your money into mutual funds, and you'll discover how you can squeeze more cash out of existing stock holdings. If you've been thinking about adding options trading to your repertoire, this is one video you can't afford to miss!

View More Info »

Average Rating:




In this revealing video, Jon will explain how some of the competitive traits that served him well in his footbll career helped catapult him into a major player in the markets. More importantly, he will reveal some of the tricks pit traders use which you can apply to your own off-floor trading.

View More Info »